General Route Description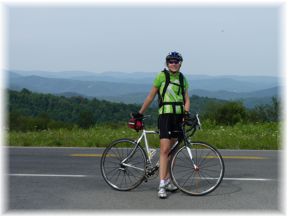 St. George to Macomber
: Starting in St. Geoge, you immediately begin climbing up Location Road. The first five miles of the climb is a very manageable 5 - 8 percent grade. You then have a flat and short downhill section before the hard final 3 miles of the climb of between 8 - 10 percent. Fortunately, you do not have to get to the top before you start enjoying some great views to take your mind off the climb.
After topping out climb, you enjoy a little downhill before arriving at the intersection with Co. __. Taking a right, you head out the rolling Stemple Ridge and enter Preston County and Tucker Co. ___ becomes Preston Co. 112. After seven miles of "rolling" terrain, you arrive in Aurora and the intersection with U.S. 50. Some of these "rolls" are significant but the great vistas continue to distract you. At the intersection is a restaurant where you can get water (assuming they are open). Cathedral State Park is a couple miles off course to the right here on route 50.
Turning left on route 50, you have a flat roll thru the community of Aurora. When you see the sign "All Trucks Must Stop" you know you are getting close to the descent. The descent is a steep twisting descent so control your speed and watch for gravel in the turns. After three miles, you are at the bottom and you are riding along the Cheat River. After crossing the Cheat River, you arrive at the small community at Macomber.
Macomber to St. George:
Arriving in Macomber, Route 72 from Rowlesburg comes in from the right and in another 1/8 mile, you turn left on Route 72 and head back toward St. George. Leaving Macomber, you begin a gradual ascent along Buffalo Creek as Sinclaire Ridge separates you from the Cheat River. As you arrive in Etam, you will notice the AT&T radio communication telescopes. Just after you pass this facility, you begin a mile plus climb of Sinclaire Ridge, the first of three climbs between between Macomber and St. George. Topping Sinclaire Ridge, you reenter Tucker County and descent to the Cheat River again.
After riding along the Cheat River for a while you have another shorter (0.4 m) climb and descent. The final 0.6 mile climb shortcuts a bend in the river and then you have an easy roll into St. George.