General Route Description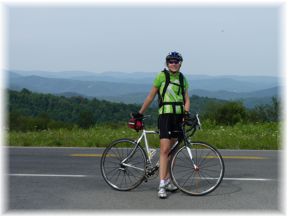 St. George to Aurora: Starting in St. George, you take Co. 5 (Location Road) and immediately begin seven miles of climbing that is interrupted by 1 1/2 miles of flat or descending road. This long climb is usually 4-7% until nearing the top of climb when you encounter some short steep gradients of 8-10%. Location Road is an un-striped road that has little traffic. It is not long before your climbing is rewarded with some great views of the valley and Limestone Mt. After topping the climb you come to the intersection with Limestone Road. Taking a right here, you soon cross into Preston County and the road becomes Co. 112. The next 7 miles on Co. 112 takes you along the rolling Stemple Ridge, which will still provide you with plenty of shorter climbs. Don't forget to stop and take in the great views of the Cheat River drainage, a good excuse to rest your legs. The last time I did this ride, there was a restaurant at the intersection with Rt. 50 in Aurora, but I would not count on it being open. A relatively flat two mile excursion to the East on Rt. 50 will take you to Cathedral State Park. This is a day use park, but has rest room facilities.
Aurora to Terra Alta: Continuing straight across U.S. 50 onto Co. 53/1 you continue another 9.3 miles of rolling terrain through upland farm country, passing through the small community of Amboy. Co. 53/1 connects with Co. 53 after 1.4 miles. You bare left at the intersection and follow 53 into Terra Alta. Before arriving at Terra Alta, you will pass a large pipeline compressor station. As you begin the gradual descent into the small town of Terra Alta, you can bare left on the first street, take a right at Bridge Street and then a left just before crossing the bridge over the railroad tracks. This puts you on Co. 51, Salt Lick Road. However, you will probably want to continue across the bridge to the convenience store at the junction with Rt. 7 to top off your water bottles and grab a snack. before beginning the descent of Salt Lick.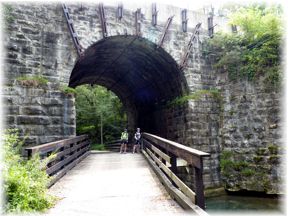 Terra Alta to Rowlesburg: Leaving Terra Alta on Co. 51, Salt Lick Road, you begin 11.9 miles of "almost" continuous downhill grade into Rowlesburg. The first part of the descent begins with a short steep section, but soon levels out to a long gradual glide down the valley. Nearing Rowlesburg you will encounter a few short climbs as the road skirts the valley. Just outside of Rowlesburg, you will come back in proximity of the railroad. If you keep an eye out to the right, you will see a neat large stone culvert that carries the railroad over Salt Lick, as well as a country road. The road is suspended over the stream by the culvert. Take time to enjoy the craftsmanship that constructed this and has carried coal trains East for over 100 years. The culvert is just at the start of a short climb on Co. 51. Arriving on the outskirts of Rowlesburg, you will cross over the railroad on a fairly new bridge and then cross over the Cheat River into Rowlesburg itself. In "downtown" Rowlesburg you will take a left on State 72 which you will follow back to St. George. In Rowlesburg, you might want to take a break and tour the displays in the old school building if it is open.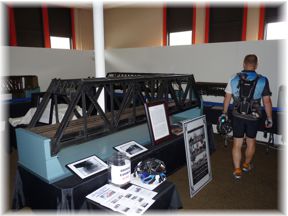 Rowlesburg to St. George: Leaving Rowlesburg on 72 South, you cross the railroad tracks on your way out of town on a slight rise, but for most of the next 2.9 miles it is a flat cruise along the Cheat River to Route 50 at Macomber. At Route 50 you take a right and an immediate left to continue on Route 72 to St. George. Your climbing isn't over for the ride, because there are 3 climbs in the next 14.9 miles. The first and longest begins just after you spot the ATT satellite receiver dishes at Etam. You top out of the climb at the Preston/Tucker County border and then drop back down toward the Cheat River. After two more shorter, but still testing climbs, you are on the home stretch. When you pass the junction of Route 38, you are an eighth of a mile from St. George. Take a left and cross the Cheat River again to get back to the parking area.